My room got an upgrade for summer! See how the small changes I made to my room made a HUGE difference.
Before Picture
I love my old waffle, maroon Pendleton blanket on my bed, but it's a little darker than I would like for summer. It was also snagging a bit on the collar of my pupper, Huntlie, along with her hair sticking like crazy to it since she sleeps with me on my queen size bed.
The next pictures show the how the hair sticks to the blanket and the snags that came from Huntlie's collar.
Last picture of the old look! Like my selfie? lol (I'm wearing my Urban Outfitters flower shirt that I also received in my order! (I'll link it below)
I was searching for a comforter that was a rust color and found this Duvet Cover from Urban Outfitters! They called the color "gold" but it is not metallic in any way. I ordered the cover in King size because I like to hide what is under my bed. Plus, my waffle blanket is also a king size so I wanted it to fit.
One side of the cover unbuttons so you can stuff it with your desired comforter or blanket. Since it is summer, I stuffed it with my waffle blanket so I wouldn't get too hot.
The next addition I got from Urban Outfitters to liven up my room are these leaf vines. I've seen other bloggers use them in their homes and I loved how it added life with the green surroundings.
After Photos!
Are you ready to see the finished decor???!!!
Links To My Bedroom Look (Click the Pic to shop!)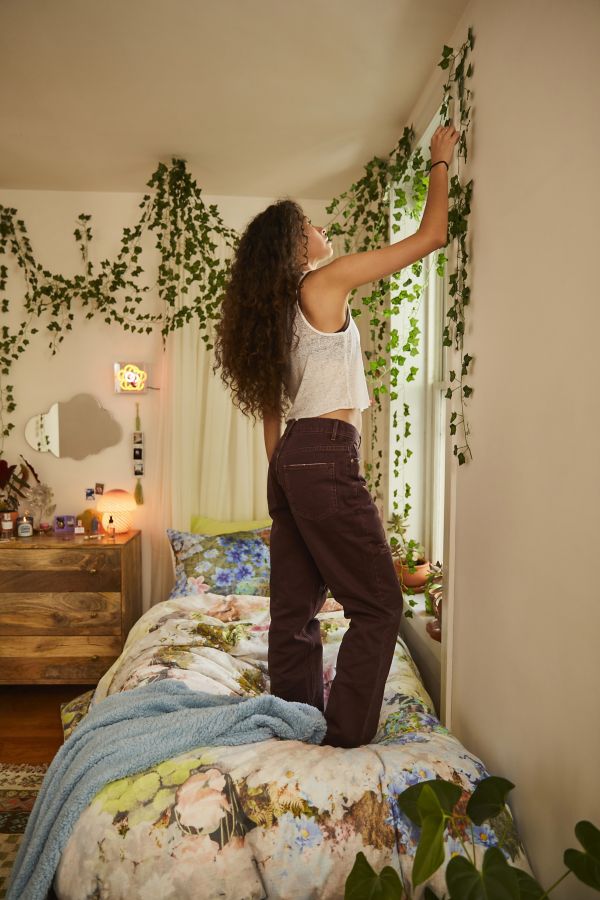 One last before and after pic:
I love the new summer vibe my room has now! Let me know how you spruce up your home for the summer! I would love to hear!
Even if it is just adding a vase of fresh flowers, I would love getting more ideas from you since we all have something to share!